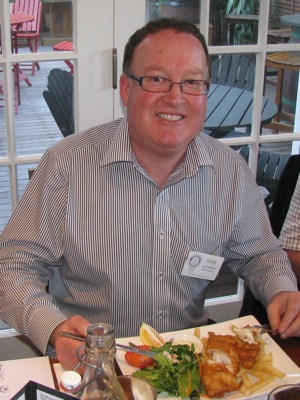 TONY HEYWARD
Tony Heyward is president of the Rotary Club of Tawa, a community-based organisation with around 45 members locally. The role is for a 12-month period and is very demanding. He is a friendly and convivial individual, a rather useful quality in his professional life as a recruitment consultant.

Tony admits that, prior to moving to these parts, he had wondered "Who would live in Tawa? There's nothing there at all." He now knows the answer to his question and freely admits that there is, well, quite a lot going for the place.
Where were you born, Tony?
Napier.

Where did you grow up?
We moved to Edgecumbe, Bay of Plenty, when I was very little. The dairy factory there is, or was, the best place in New Zealand for making cheesecakes. Did all my schooling in Edgecumbe, then we moved back to Napier when I was 16.

Where were you educated?
Edgecumbe Primary then Edgecumbe College.

What is your line of work?
When I left school I worked in the motor trade. In 1986 I joined Air New Zealand as a reservations sales clerk. I was promoted to Wellington in 1990 as accounts manager looking after all government passenger business. Transferred to Palmerston North in 1993 as Area Manager Manawatu-Hawkes Bay. In 1995 promoted back to Wellington as Regional Manager - Lower North Island. I controlled everything on the sales & marketing side except airport operations. "I used to fly to Auckland and advise them on what to do."

Change of career in 2000 - I was asked to work for a well-known recruitment company. That was the start of my recruitment career. In 2007 I decided to go into business on my own. I'm currently Principal of TransitLounge Consulting Ltd.

What about family?
Married to Shona with two daughters, both at Tawa College.

What are your interests/hobbies?
Obviously Rotary. Probably my priority at the moment and very time-consuming. "It takes a bit of driving." I've been president since July 2010, having joined Tawa Rotary ten years ago.

I used to race yachts competitively. I don't have time now. In my Napier days it was perfect. I used to do a lot of water-skiing and still do occasionally. "I had a big blat up in Taupo at Easter." I also used to race go-karts, and was runner-up North Island Champion. I have an armchair interest in most motorsports. Also pottering in the garden, weather permitting.

How long have you lived in Tawa?
Once the family values kicked in, I thought "Tawa's not a bad little place. We moved here in late December 1995, have moved around within Tawa and have no intention of leaving for now."

What do you think is great about Tawa?
It's got a great community spirit and I think it has all the facilities here that we really need at the moment, especially for families.

What, if anything, would improve Tawa?
That's a good question. There's nothing that immediately springs to mind except perhaps some dedicated youth facilities.

What is your favourite dessert?
Chocolate instant pudding and trifle. "As a kid we used to have it all the time." Unfortunately none of my family will join me on either of those two.

Favourite sports team or sportsperson?
I think probably the All Blacks are my favourite sports team.

Favourite style of music?
Bee Gees. I like the Bee Gees ... and Abba. I used to like Neil Diamond, also Crowded House.

Favourite holiday destination in New Zealand?
Waimarama Beach [Hawkes Bay].

Favourite quote or saying?
"Can I get back to you on that one?"

If you could meet any two or three people (alive or dead), who would they be?
Richie McCaw - "What makes this guy tick?"
Bill Gates - "What can I learn from him?"
Billy Connolly - "Just love his brand of humour."

What three things would you take with you if you were stuck on a desert island?
You've got everything with an iPhone. I'd need a sunhat, and I'd have to have a barbecue with a supply of our local butcher's beef sausages.

What is one talent you would like that you do not have?
I would like to have carpentry skills, and to be able to sing (not necessarily at the same time!).

What is one talent you have that you could not do without?
Probably my people skills. "I've got a knack of getting the right people together, getting them to talk to each other."

What accomplishments/achievements in your life give you much satisfaction/pride?
Our daughters. That would be number one.
Having a supportive and very loving wife and two great daughters. "Been married for 25 years" [early November].
Running my own business. "Being able to stay in business in this environment."

What two or three interesting things about you that local people might not know?
Had a private lunch (there were 20 of us) in the Queen's private dining room at Government House in Wellington with HRH the Duke of Edinburgh, Prince Edward, and a princess from Jordan. I was representing the chairman of Air New Zealand and was seated next to Prince Phillip.
In the early 90s I was Michael Jones' room-mate for eight days on a rugby tour. We took a group of clients to the UK to watch the All Blacks. Although he was a current player, Michael was carrying an injury at the time, and accompanied us as co-host.

What are two or three things you would like to do before you die?
Always wanted to take the train from Sydney to Perth. I want to see more of Australia than just the touristy spots.
I'd love to learn to play the piano.
Walk the Milford Track.


Compiled November 2010.