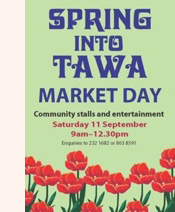 "Spring into Tawa" Market Day takes place in the vicinity of Tawa Plaza and the Main Road shops each September. It's an occasion for the community to come out to spend up large at the many and varied stalls, and to enjoy the entertainment on offer.

As it had been wet on our big day last year, we were desperately hoping that we'd have a fine one this time around. Although the weather was 'marginal' the rain did stay away and the temperature warmed up as the morning went on. The 60 odd stalls were well supported by a good crowd turning up, and entertainment was provided by students from the NZ Radio Training School 'hosting' the event, Tawa Music Festival singers performing three items in advance of the "Tawa Goes to Town" concert at the Michael Fowler Centre five days later, the Red Hackle Pipe Band, Harriet the Clown, Harold the giraffe, Geronimo Stilton and, of course, the local Fire Brigade.

Our thanks go to all those who participated in any way, including the many stallholders and the hundreds of customers who purchased their wares. We know of some community group stallholders who made $300-400 on the day, one group reporting that it was their best year yet. All in all a very successful occasion.