Who's on the community board?
See the photo below.

What does the community board do?
For details of what the community board actually does and what it has achieved in recent years, click on the graphic immediately below.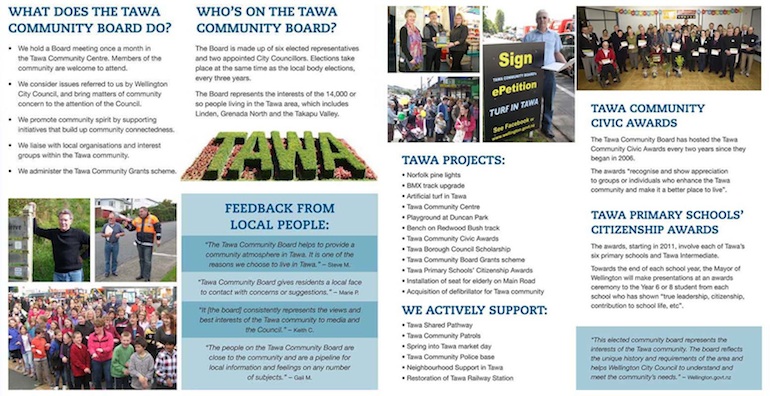 The Tawa Community Board as from October 2016 comprises (from left in photo below) Cr Malcolm Sparrow, Cr Jill Day, Graeme Hansen, Richard Herbert (chair), Margaret Lucas (deputy chair) Robyn Parkinson, Jack Marshall, Liz Langham.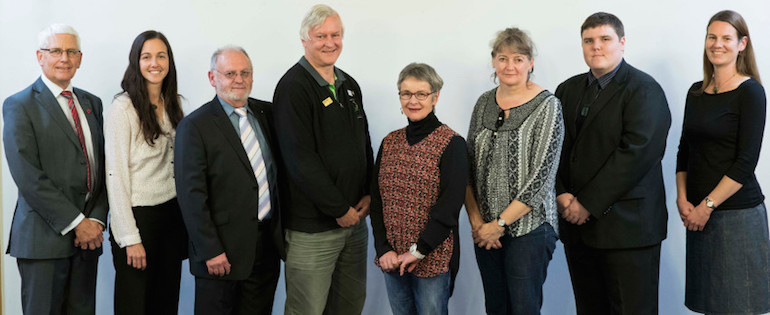 Wellington City Council's website states:."This elected community board represents the interests of the Tawa Community. The board reflects the unique history and requirements of the area and helps Wellington City Council to understand and meet the community's needs."
For more information and details of meetings on the WCC site, click here.


The roles and responsibilities of Tawa Community Board members are as follows:

1. representing and acting as an advocate for the interests of the Tawa community
2. considering and reporting on any matter referred to it by Wellington City Council and any issues of
interest to the Tawa Community Board
3. making an annual submission to Wellington City Council on expenditure in the local authority
4. maintaining an overview of services provided by Wellington City Council within the Tawa community
5. communicating with community organisations and special interest groups in the Tawa community
6. undertaking any other responsibilities delegated by Wellington City Council


Click below for:

Tawa Community Board on the Wellington City Council site

Tawa Community Board 2013-16

Tawa Community Board 2010-13

Tawa Community Board 2009

Tawa Community Board 2007

Tawa Community Board news clippings over the years

A little about the (former) Tawa Borough Council

Tawa Primary Schools' Citizenship Awards 2012-16

Tawa Community Civic Awards